Giving Back
At Paws & Co, we are all about healthy + happy dogs.
And there is one local non-profit organization in particular we love to support because of their mission to help support happy + healthy pets.
Maxfund is a non-profit organization and no-kill shelter that was established in May of 1988. They
 provide medical care for injured pets with no known owners, 
and seek out new homes for these animals once they have recovered. 
They also provide:
▪ Low-cost vaccinations, pet food, and spay/neuter clinics for pets of low income families.
▪ 
Therapy Program which takes pets to visit senior centers, the VA Hospital and nursing homes.
MaxFund is a true no kill shelter. There is no pre-sorting of animals into "adoptable" and "non-adoptable" categories, discarding the so-called "unadoptable." MaxFund takes every animal it has the space for - EVERY animal is kept until its owner is found or it is placed in a new adoptive loving home. 
MaxFund has found adoptive homes for more than 31,000 animals. In addition, over 48,000 spays and neuters have been provided, mostly for pets of low income families.
With your help, we are able to provide support this amazing non-profit and sponsor shelter pets in need. Every purchase of Paws & Co products supports dogs in their care!
Meet Octane & Duke
The dogs we are currently sponsoring!
These two loveable pups are searching for their forever home. Octane is a spirited husky mix who loves car rides, hikes and snuggles. Exploring the outdoors and riding in the car are two of his favorite things! Duke, the cuddly basset hound mix, is all about affection and loves to curl up beside someone! He's also quite the entertainer, always ready to show off his tricks and make people laugh.
These two have been inseparable since they were pups and are looking for a forever family that understands their bond. Love and happiness will be multiplied for any family that opens their home to them!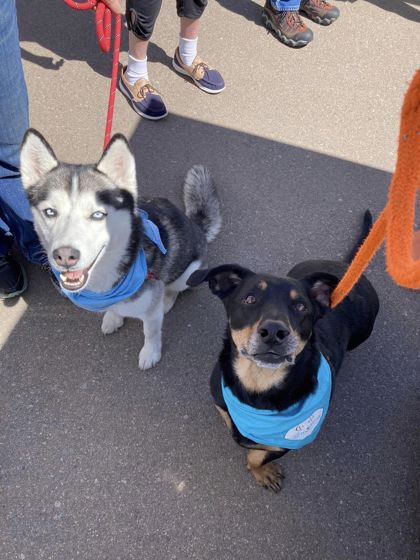 Follow this link to learn more about these and other special pups in need of loving homes!
https://maxfund.org/Adopt-a-Dog
We have also sponsored:
have more questions about our chews?